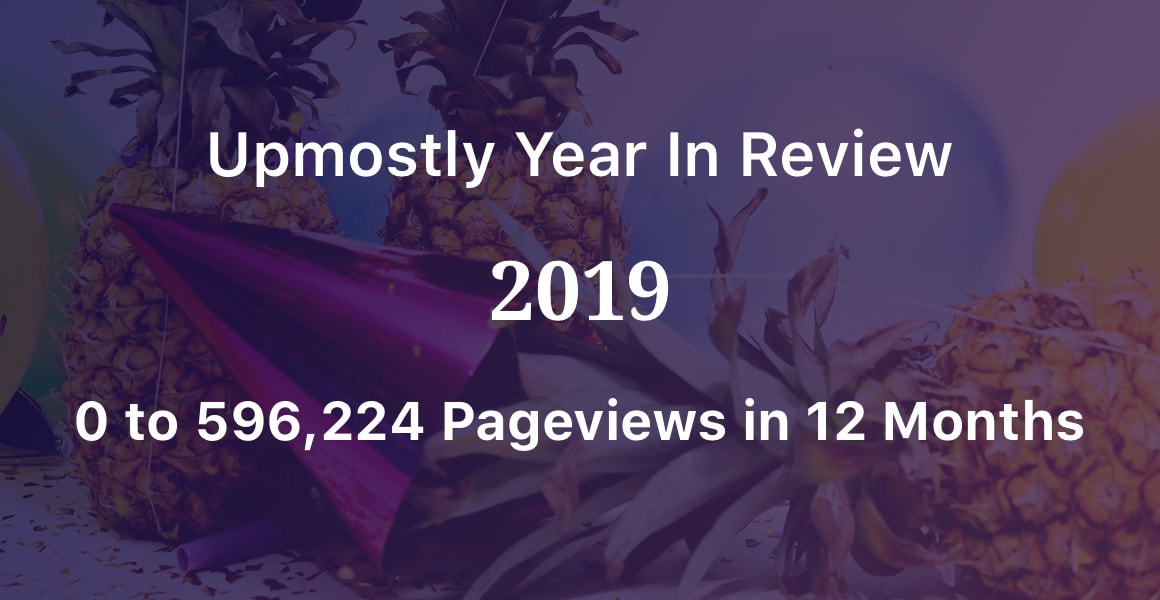 On January 1st, 2019, a little over 12 months ago, I decided to start a blog.
I found and purchased what I still believe to be an incredible domain name.
I bought some server hosting from SiteGround, installed a fresh copy of WordPress, and thought about writing my first post.
Little did I know that 12 months later my posts would reach over 65,000 readers every month.
Or that I would have amassed a following of over 1,100 mailing list subscribers.
Or that I would have several #1 spots on Google for search terms related to the content of my blog.
0 to 596,224 Pageviews in 12 Months
As we enter a new millennium and I celebrate Upmostly's first birthday, I want to conduct a thorough retrospective.
I'll let you in on what worked and what didn't work. What I wish I would have done differently and what I should have started doing sooner.
I want this retrospective to not just be for my benefit, but for the benefit of any aspiring bloggers.
You'll discover how I managed to create a blog that received over 595,000 pageviews in just 12 months.
What's still shocking to me, is that I had little to no expectations of how many pageviews I'd get. I am a goal oriented person and so I did set myself a target of hitting 50,000 total pageviews by the end of the year. 
When I hit that number after three months, I knew that I was on to something with Upmostly. I knew that I was providing value and that Google was obviously liking my content.
Finally, I want to have some fun with this retrospective. Therefore I'll start by sharing some interesting stats and superlatives with you. So, without further ado, let's dive into the Upmostly 2019 year in review!
2019 Statistics
Total Pageviews: 596,224
Unique Visitors: 355,170
Average Duration Visitor Spent on Upmostly: 50 seconds
Number of Comments: 245
Favorite Comment: "Someone give this guy a medal and a bottle of whiskey. Bravo mate, thanks for the awesome tutorial."

I had absolutely no expectations for my posts. I was just writing them because of my love for React as a UI library (read my post on why I moved from iOS to React).
These statistics humble me. To think that thousands of people all over the world would read my posts, day in, day-out, and leave such positive comments in reply to my posts really warms my heart. Thank you, Upmostly community, from the bottom of my heart.
Top 5 Countries with Highest Readership:
United States 🇺🇸
India 🇮🇳
Brazil 🇧🇷
UK 🇬🇧
France 🇫🇷
It doesn't surprise me that most people read my tutorials are in the United States. I live and work in the US. I publish my posts to the ReactJS subreddit which I'm guessing has a higher readership from the US.
Fun fact: Although I live and work in the United States, I'm not American. I'm actually British. I moved to the States in 2013.
Most Popular Tutorial: React onClick with Event Handling
Longest Tutorial: Airtable and React: Create a Simple Web App (3,223 words)
My most popular tutorial result shocks me, for a few reasons. The first being that I assumed my most popular React tutorial would be one of my longer, more in-depth tutorials, where I demonstrate how to build a web app from scratch, or explain the React Context API.
Second, I assumed that writing about something so common such as React onClick events would make it very difficult for me to rank highly on Google. In fact, it's the opposite. I'm usually position one or two on Google for the search term "React onclick".
I should have never assumed that the common search keywords were impossible to rank for. What I've learned is to never assume, as you'll discover in these next sections.
Retrospective: What Did & Did Not Work
If you're interested in starting a blog in 2020, then the next few minutes should be a very useful and insightful read.
Over the next several paragraphs I will give a brutally honest and in-depth breakdown of how I was able to take a freshly installed WordPress site that had 0 page views, all the way to 596,224 page views, in 12 months.
As a bonus, by the end of the 12 months, I was able to ensure that Upmostly receives a consistent number of unique visitors of around 2,600 per day.
Building a blog that receives a large amount of organic traffic and one which continues to grow organically at a steady pace is, in my opinion, what aspiring bloggers should aim for.

That type of traffic has a much better long term potential when you come to monetizing it. This is compared to creating one viral post with an insane amount of traffic driven to that one post.
Write Consistently
If I had to pick one of these headings to follow in to 2020 with, it would be this. Write consistently. If you live a rather chaotic life, find a way to fit writing in to your life.
Let me share my story of how I successfully fit writing in to my life.
I have a 9-5 job as, you guessed it, a React developer. After spending 8 hours a day thinking in React, coding in React, and meeting and discussing React with my team, I found it almost impossible to drive home, cook dinner, and then jump into writing a new React tutorial for Upmostly.
My solution?
Wake up earlier.
It sounds trivial doesn't it? But I'm not a morning person. Yes, I know, all of you parents reading this, laugh it up.
But waking up early was my solution. Now you have to find yours.
Waking up earlier meant that I can write for an hour, sometimes two before I have to leave for work. That's nearly 2,000 words at the pace that I write now.
I could write 10,000 words in a week at that rate. Given that I set myself a target of writing one tutorial per week, with an average word count of 2,000 words, 10,000 words are well over the normal word.
There were of course times when life got in the way.
As a result, out of the whole year I managed to write 35 posts.
Considering I set a goal of writing one post a week, 52 posts, that works out to be a 67.30% success rate. Not bad for the first year and definitely a goal to beat for 2020.
One thing I noticed was that when I wrote consistently for weeks at a time was that Google would be much kinder to my posts. Their search rankings would improve week over week, and display much more frequently in search results.
Now, I can't prove this, because no one truly knows how Google works, but it's a calculated hunch that I have after being very, very watchful of how my posts are performing on Google.
Don't Distract Yourself From the Writing
In order to write a tutorial for Upmostly I have to do more than sit at my computer desk and bang on my keyboard.
Before I write a single word, I need to conduct research. This involves keeping a very long list of ideas on my phone incase an idea pops in to my head at the grocery store or airport. I've always found it to be the case that the best ideas are those that spring to mind when I'm not actually thinking about anything.
My research also involves understanding the subject matter and knowing what my readers would find interesting.
My steps for writing a tutorial are in this order:
Research and develop an idea for a post.
Write the code to create a working example and so I can share the source code on Github
Write the tutorial content itself
Create the tutorial graphic
Publish the tutorial and share it with the world
Imagine doing this every week without fail. You'll understand why I only had a 67% success rate at completing my goal of posting one tutorial per week.
Therefore, I knew that I had to find my writing groove if I were to maintain my goal of one post per week.
One of my favorite films of all time is the brilliant Finding Forrester. There's a fantastic quote in it from Sean Connery's character that helped me understand how to find my writing groove:
"You write your first draft with your heart and you rewrite with your head. The first key to writing is to write, not to think."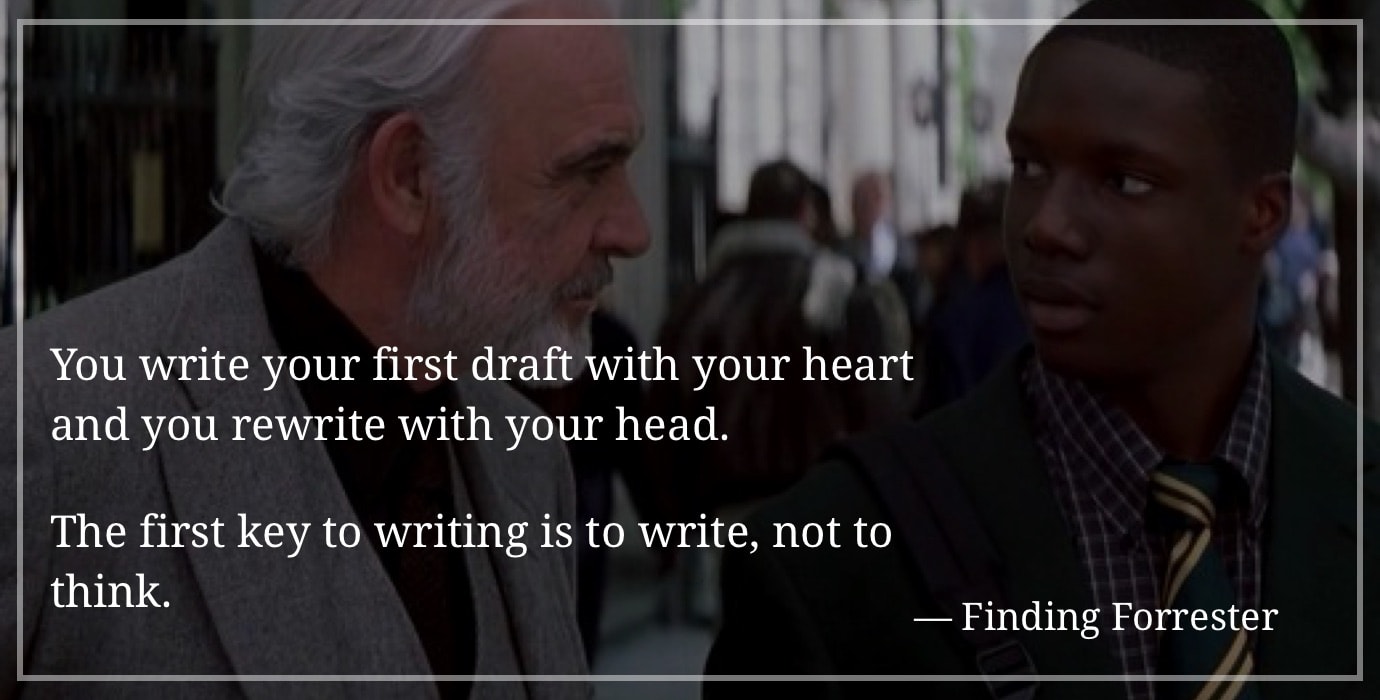 I love that quote so much because it resonates with who I am as a person. I like to get stuff done. I'd rather spend time typing on a computer than thinking about what to type on a computer.
So that's how I start each post, including this one. I just write. I know my first draft is going to be rough around the edges, but it'll have heart.
Even though the movie deals with fiction writing, and my blog posts are very much far from fiction, the same concept of "just write" applies.
It's funny. At first, I was really focused on writing the tutorial content itself. Towards the month of June however, I found that I was spending way too much time on other tasks such as creating the graphics, or researching the perfect next post.
I thought, "Well, Upmostly is getting bigger now, so I need fancy graphics to go with each post to make my tutorials look more professional".
How wrong I was.
There was no problem with my tutorial graphics in the first place.
There was no need to overcomplicate the process.
Every time I would start writing a new post, I'd do a mental recap of all of the steps I listed previously. Making the graphic much more complicated in turn meant that it would take longer to design. I was inadvertently making the decision to start to write much harder for me.
Whenever I got to the "Create the tutorial graphic" step, I'd sigh internally and think, "Ugh, I have to spend an hour or two on a graphic after writing the post. An episode of something on Netflix sounds really good right now.".
Moral of the story: Don't overthink the little details. Things like your post graphic or that 1-pixel-off twitter icon that's bugging you that will take hours to fix with CSS can wait. The chances are your readers won't even notice anyway. You're increasing the barrier to entry when starting a post.
Content is king, as they say.
Speaking of not over complicating things…
Use Solid, Reliable Web Hosting
It's absolutely imperative that you use reliable, fast, and affordable web hosting for your site.
Trust me, you don't want your site going down after you submit one of your post to Reddit, it gets over 144 upvotes and reaches the top of the subreddit and thousands of people can't access your post. Sigh.
Do I still sound bitter?
Let me tell you, that hurt. A lot.
The mistake I made was to not go with an affordable host and instead listen to the developer inside of me and configure the web server myself using Amazon Web Services (AWS).
AWS is a collection of services offered by Amazon that include allowing you to host and configure your own server. It's very flexible, but it's barebones. You have to know what you're doing with AWS.
And to know what you're doing, you'll need to read a lot of tutorials.
So I'm sat in my office, reading countless tutorials on setting up a website using AWS for my own site which is about coding tutorials.
Oh the irony.
Take my advice from the previous section and don't distract yourself from the writing. If you really want to build a blog, pick a solid and reliable hosting provider, a simple theme and call it a day. Do not do what I did early on and waste days configuring your own site and building your own theme.
In hindsight, creating my own theme and rolling my own server was a complete waste of time. I probably could have written another 10 tutorials in the time it has taken me to wrap my head around AWS, as well as the ongoing maintenance needed.
Based on what I've witnessed over the last year, the number one reason you should let someone else handle your site is to not get penalized by Google. If your site speed is slow or unreliable, your rankings will suffer.
There is one hosting provider that almost always gets recommended for WordPress sites. Everyone I've spoken to loves them.
That hosting provider is SiteGround. WordPress.org officially recommends using SiteGround. You can't get a better endorsement than that.
If you are genuinely interested in starting a new blog in 2020, take my advice and sign up with SiteGround, pick a basic theme, and start writing.
I've provided a handy link directly to the SiteGround website below 👇
---
If you click the SiteGround link and do decide to sign up, I will receive a part of that in commission. Will I spend that money on cake? Probably. Will you get the best WordPress hosting available? Absolutely.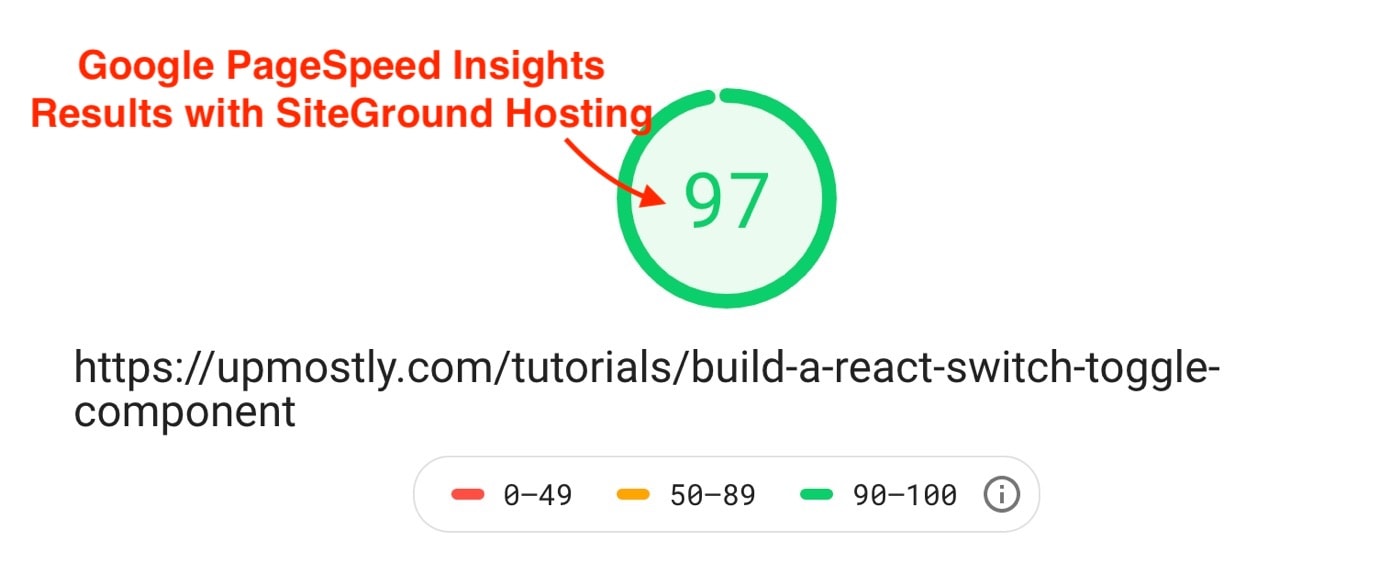 I use SiteGround, and I constantly get great speeds using Google PageSpeed Insights.
It's Never Too Soon to Market Your Posts
I was scared stiff the first time I posted one of my tutorials on Reddit. I remember sitting in my office chair on a Sunday morning at around 8:00 am thinking: "These people are going to crucify me. They're going to go through every line of code and tell me I'm stupid for writing it that way".
All I had were negative thoughts.
I spent hours and hours tweaking my first tutorial before posting it to Reddit thinking I was improving it. In reality I was procrastinating because I was scared to show it to other people and to hear their response.
I didn't think my tutorial was professional enough to be read by other people. Even though I was publishing articles, there was something terrifying about publishing to a website like Reddit and opening yourself up to direct criticism.
Again, I was very, very wrong.
Let me show you the first comment that was posted on my submission by a Redditor by the name of "AussieNinjaWarrior":
"Hey! I've been struggling with React tutorials… there always seems to be either something that's out of date that breaks the program, or the tutorial assumes I have some knowledge that I don't… and I get stuck. I seriously think I've only completed about 10% of React tutorials I've attempted.
At first look, this is incredible… there's so much information here, all presented very nicely. I'm just about to dive in, but I just wanted to thank you for going to this incredible effort. I'm super pumped to attempt it!
This tutorial was beyond fantastic. I've literally spent the whole Thanksgiving weekend trying to work on my own React project, only to get continuously stumped… then try tutorials to try and learn what I need to, only to have them stump me too… it's been a super frustrating 4 days and your tutorial came pretty much at the 11th hour and reinvigorated me Reactness…. so thank you.
I'd seriously recommend everyone trying this out; beginner to expert, it's super fun and Airtable is amazing… but mostly if everyone wrote tutorials like this… there would honestly be more React devs around."
I was stunned.
I couldn't believe my eyes.
Someone actually enjoyed my tutorial.
My emotion shifted from pure dread to holy shit this is awesome.
As I posted more and more of my tutorials to the ReactJS subreddit, they became more and more popular. I was receiving more upvotes each time I'd post, and almost always would be top of the ReactJS subreddit.

There was no way in a million years I thought that my tutorials would reach topof the ReactJS subreddit.
Let me stop here and ask you, the reader, a question: Are you starting to see a pattern emerge in this retrospective.
As I write this post, I am.
That pattern is that I constantly assumed the worst when I first started out.
I doubted my writing.
I doubted that anyone would read, let alone enjoy my tutorials.
Because of this, it took longer for Upmostly to get going. If you're reading this because you want to start a blog and you find yourself relating then I will say this: It's ok to have that feeling. It's natural.
Things take time, especially good things. Embrace that feeling and accept that it's there.
However, don't be afraid of it forever.
Start a Mailing List as Soon as Possible
I almost included this point in the previous section, as a mailing list arguably falls under the category of marketing. However, I believe it to be so important that I gave it its own section.
Much like I've discussed in my previous sections of this retrospective, I was too scared and too self doubting to start a mailing list on day one. I thought, "Why would anyone give me their email address?".
For the third time, how wrong I was.
Start your mailing list on day one. It's important to the success of your site.
So why is building a mailing list so important? Well, I like to think of Upmostly as more than just a blog. It's a brand. One branch of turning a site into a brand is through building a community who interact with your brand.
A mailing list is a fantastic way to stay in touch with your community. To ask them questions, send them my latest tutorials and posts, as well as any other React related news.
As a side note, that's why I went with more general domain name like Upmostly and not one that's very specific like ReactTutorials.com. I can take Upmostly in a lot more directions compared to ReactTutorials.com for example, Swift, Angular, or JavaScript tutorials, etc.
Get this though.
When I first started out my mailing list, I was receiving on average 10 signups per week.
When I offered a free downloadable chapter of my upcoming book, The Complete Guide to React, my signups jumped from 10 signups per week to 10 signups per day.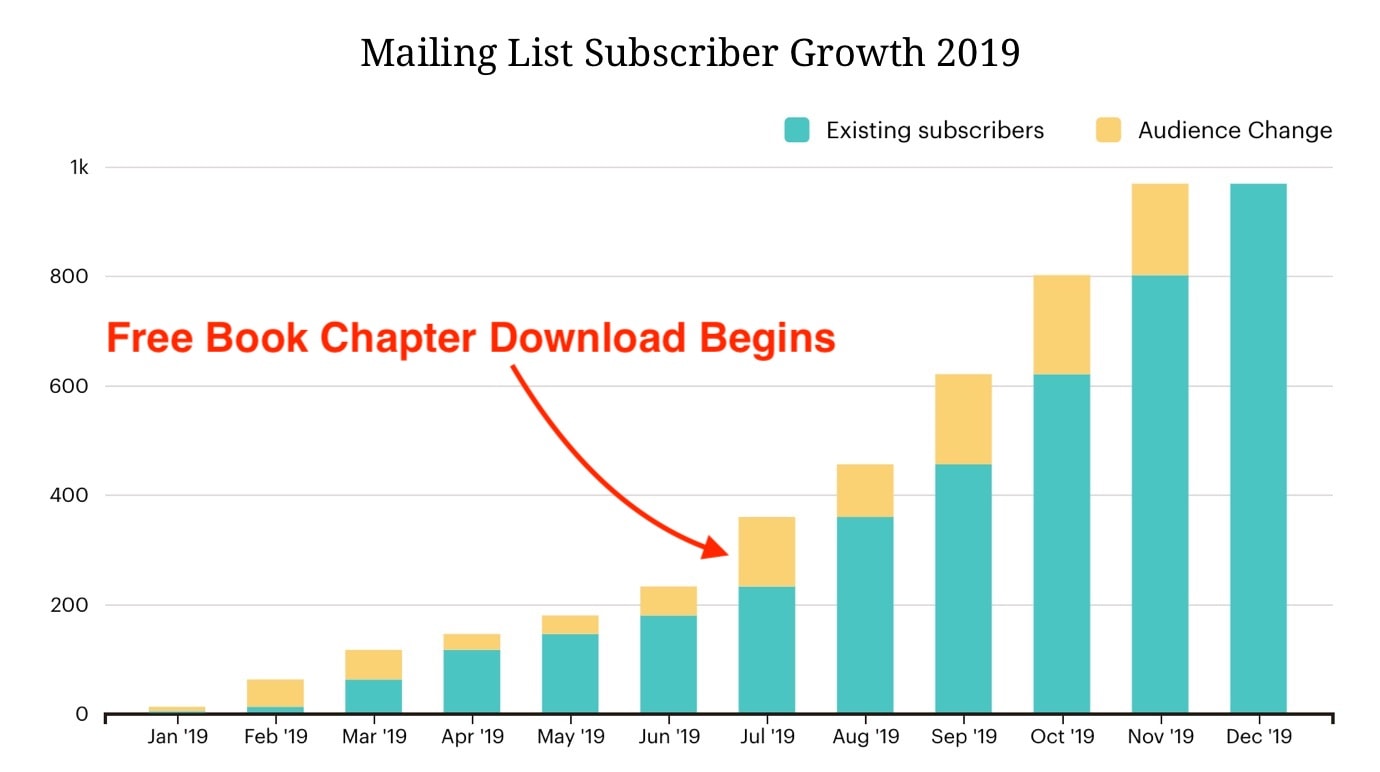 Moral: Don't be afraid to start a mailing list from day one. People do want to be alerted when you publish a new post or have something interesting to say. 
Final Side Notes to Consider
Don't spend too much time on social media when you're starting out. Twitter can be distracting, and it traffic driven from it pales in comparison to traffic from organic searches.
Use a mobile friendly site theme. Google are penalizing sites who aren't as of July 2019.
Don't use too many WordPress plugins. Pick the ones that make the biggest impact on your workflow and performance.
Reply to every single comment left on your posts. Your community will thank you later.
Find alternative ways to monetize your site other than adverts. You need millions and millions of hits before you'll start seeing returns. Plus, ads are terrible for your user experience.